Cruel Celebrity
There was a time when embarrassing talents were a purely private matter. If you could sing "The Star Spangled Banner" in the voice of Daffy Duck, no one but your friends and family would ever have to know.
But with the Internet, humiliation - like everything else - has now gone public. Upload a video of yourself playing flute with your nose or dancing in your underwear, and people from Toledo to Turkmenistan can watch.
Here, then, is the cautionary tale of Gary Brolsma, 19, amateur videographer and guy from New Jersey, who made the grave mistake of placing on the Internet a brief clip of himself dancing along to a Romanian pop song. Even in the bathroom mirror, Mr Brolsma's performance could only be described as earnest but painful.
His story suggests that the quaint days when cultural trinkets, like celebrity sex tapes, were passed around like novels in Soviet Russia are over. It says a little something of the lightning speed at which fame is made these days.
Mr. Brolsma, a pudgy guy from Saddle Brook, made a video of himself this fall performing a lip-synced version of "Dragostea Din Tei," a Romanian pop tune, which roughly translates to "Love From the Linden Trees." He not only mouthed the words, he bounced along in what he called the "Numa Numa Dance" - an arm-flailing, eyebrow-cocked performance executed without ever once leaving the chair.
In December, the Web site newgrounds.com, a clearinghouse for online videos and animation, placed a link to Mr. Brolsma on its home page and, soon, there was a river of attention. "Good Morning America" came calling and he appeared. CNN and VH1 broadcast the clip. Parodists tried their own Numa Numa dances online. By yesterday, the Brolsma rendition of "Love From the Linden Trees" had attracted nearly two million hits on the original Web site alone.
(Source : New York Times)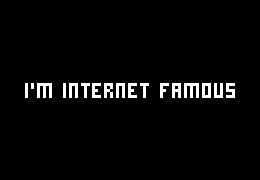 To answer to this issue I would like to tell you the story of my little band and association called Sauce Blanche. You can find our board there and our blog here. Sauce Blanche is both an association to promote cultural goods such as music, arts etc. and a bunch of guys making music, painting, video…
Our crew has been created more than two years ago. At the beginning it was only a podcast. But we did everything to promote it. Actually we created a podcast, a myspace, we "spam" many boards, mails, blogs, websites and myspace accounts to become a famous podcast. Plus we decided to update every month the music track to bring novelty. Today Sauce Blanche podcast is listened by more than 7000 people every month frome everywhere in the world : Philadelphia, New York, Paris, Japan, Mahgreb etc. I think we can say now we are pretty famous on the Internet thanks to that podcast.
One year ago, Valentin and Mathieu, two members of Sauce Blanche, decided to write music for Christmas Eve, that's why we conclude to promote their music through a classic Myspace Music Account and a Virb account. That was the first step to introduce our works. Thanks to our Myspace we have met several foreign bands, coming from London, New York City and L.A. The first one did a remix of the track "Seul le ciel peut test", New York City band splitted and I don't know what they are becoming, and the artist of L.A. is currently working on a classic song remix of "Seul le ciel peut test"…
Moreover, we are preparing a mixtape for Erwan Kezzar a.k.a. and a mini CD of Electro-Pop Music. It is supposed to come out this spring.
Because of our pretty fame we succeeded in deejaying for parties. That was dope.
Sorry, no match for the embedded content.
Now we have guests to our podcasts such as Raoul Sinier, Curtis Vodka, El Riko Balboa.
We try to develop our blog by using french digg-like such as Scoopeo, Fuzz, and web promotion features (sitemap, robots etc.). Everyday more than one hundred unique visitors head on our articles and read them. So Sauce Blanche is spreading all over the world, our works are beaming the entire planet earth…
Baptiste, - one member of Sauce Blanche - is currently exposing his works made with Paint in a very hype and luxuous hotel called the Hotel Kube, he became famous thanks to his Paint blog and the magazine Technikart choose him as the artist of the month.
So as you can see, it seems obvious : you can become famous on the Internet if you know how to use the promotions features and if you work hard on it.
Remember a young girl who posted her videos where she sang music hits, has been signed by Justin Timberlake to his label. This girl epitomises this current trend.
Listen to our music friends : last podcast. Entertain yourself.
Three ways of becoming famous on the Internet
1. Britney Spears
If you're already famous in the real world but you have some problems of visibility or image in the traditional medias, Internet could be a good solution for you to make buzz or modify your image. By using blogs, fan forums, specialised people websites and some social networks (MySpace is the main for the stars), you can try to diffuse news about you, videos, try to improve your image or create a rumor.
2.
Chris Crocker
If you're not yet a star but wants to become one, Internet could be a good way for you to become more than just nobody. Chris Crocker is a terrific exemple of how Internet is redefining famous traditional definition. Here is the famous video of Chris Crocker, who become famous by crying about the Britney Spears's mediatic treatement.
Sorry, no match for the embedded content.
His video uses the famous of Britney Spears to make himself become famous. It's one of the originality of the Internet to give you the possibility to show yourself and say what you want.
3. Bilal, rappeur du 92 and Clement le Nolife : the dangers of being fast famous on the Net.
But Internet can also be very dangerous for your public image. In France, two recents exemples show us how Internet could make of you a star…of ridiculous. The rappeur du 92 is a teenage boy who posted a video on him on YouTube a few monts ago where he raps about one of his classmates. The video becomes very quickly one of the most viewed on YouTube. The comments about the video improve also very quickly. Just take a look on the video, you will maybe understand what is his famous potential.
Sorry, no match for the embedded content.
The video of Clement le Nolife is really fast become a cult video on the Internet. First whas the video showed on TV. The show is already very famous and some teenagers put the video on YouTube and Dailymotion. It's now very rare that some young people doesn't know the video…Everybody knows the words of the journalist and, of course, of Clement, who's incredibly funny on the video. Just take a look on it :
Sorry, no match for the embedded content.
He has now related groups on Facebook, make interviews and is now a famous teenager.
Do you really want to be famous by the internet?…
In France, the first artist who became famous thanks to Internet, is the children singer Lorie. She had done know her songs by internet, and got notoriety on the web before beeing known on television or radio, fashionable media at the time. But people don't remember her beggining because, internet was considered only like a « tremplin ». Now, thanks to social networks like Myspace for example, anybody can become famous by internet. People like you and me, who draws, sings, plays music in a band, who is a comedian, who realises movies, creates webzines or music/cinema/etc. websites can increase his network by « adding » other people to his « friends », And so on, you have more and more « friends » that have lots of friends too, that have lots of friends… and then you become famous, thanks to internet buzz ! And you can complete this social network pages by creating blogs or even websites if you have technical competences. Now, on the internet, it seems that anybody can do what were doing traditional media like press, radio, or television. In fact, nowdays, with a camera and a mirophone, you can put videos on Youtube or Dailymotion, create a TV show on a webTV, or realize a webradio with any server. But today, the definition of « fame » has changed. In fact, that's not the talent you have that make you somebody famous, but the number of « clics », seen pages, or the fact we talk about that in traditional media.
It can become a perverse effect because, internet things we talk about at the television or on the radio, often are « funny » or ridiculous things. And we realise that today, the fame of the internet is more is more not the best, but the worst.
Becoming famous on the internet…
First, what is the definition of fame? In a traditional dictionary, one can easily find those definitions :
- [noun] the state or quality of being widely honored and acclaimed
- [noun] favorable public reputation
Before internet it was said that each person would probably have at least 15 minutes of fame in their lifetime! That trend of thought was prior to the Internet becoming a major part of everyone's lives. Thanks to the Internet that fame can be long lasting, easy to attain, and remain forever. The only condition being that no one deletes our name from any sites we visited, or groups we started, or articles we wrote. Thus our fame can remain long after we ourselves are gone.the Internet. Anne d'ussel
Joyce:
The internet: where dreams of fame can become true
Becoming famous on the web has been a real trend in the past few years. Thanks to the internet, bands and artists have been unveiled to the public eyes. Reaching the fame on this platform implies a new model.
In this audio, I'm trying to give some characteristics of this new and intersting model:
---
Andy Warhol said in 1968 what became a famous quotation : "In the future, everyone will be world-famous for 15 minutes." Here began the well known cliché of the 15 minutes of fame.
Now that internet developps its networks in the whole world and that new uses are found everyday to share information instantly and with everyone, can we say that we are in this future Andy was talking about?
I have chosen this picture because i think it represents what is to me the main idea : Internet embodies this future he was talking about, because of its "buzz dimension". The point is to be seen on the most different screens possible, at the same time.
As an example I give You this link
This video has been seen almost 8 milion times, just thanks to the buzz. What is interesting with Youtube is that the videos' default way of ranking is by relevance but you find this video by searching "daft punk", which is just the name of the band making the music on the back of the video. Relevance and fame are also strongly connected here, because this video arrives first when you're looking for "daft punk".
It's certainly a good example of the fame Wahrol watalking about : this worldwide fame doesn't last long. The second way of ranking proposed id "date added", which says a lot about a fame chasing away the other.
Nowaday's fame is also different from what it used to be in the seventies. Our icons are not as strong as Marilyn Monroe. We have a serie of little heroes and icons that are not supposed to survive their time.
_Erwan K.'s opinion:_
page revision: 17, last edited: 29 Nov 2007 13:56